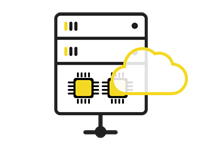 Cloud Server High Memory
Do you need fast performances for your cloud workloads?
With Cloud Server High Memory you can manage projects, caching systems and databases that process large data volumes in memory.
Get the power of our cloud servers on demand and choose the RAM option that better fits your requirements.
Horizontally scalable and available with more configurations, CS High Memory is ideal for obtaining maximum performances for all your memory-intensive workloads.